The AD4GD project is structured into 9 different Work Packages (WP), each subdivided into specific Tasks. Each WP has a WP Leader and each Task has a Task Leader.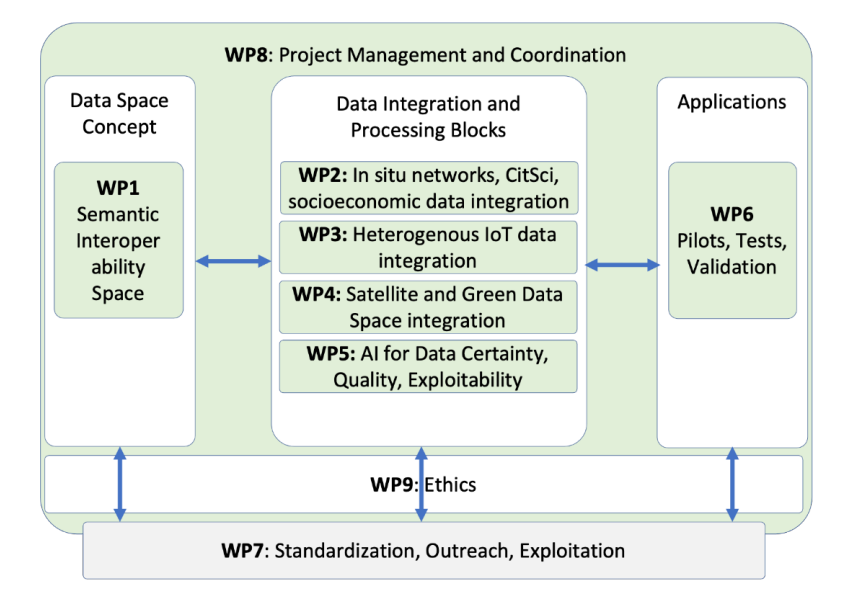 WP1 leads the co-creation and specification of designing the GD data space. It collects the multi-actor and knowledge centres requirements, specifies the AD4GD data model and semantic interoperability approach to support data exchange between heterogenous services, provides the mechanisms and tools for data integration, and a suite of open APIs to support the development of FAIR Science Services in line with the GD priorities. WP2 focuses on the trustable integration and scaling up of the CitSci model with a specific focus on Privacy-by-design data integration and application co-creation and co-design. WP3 develops a heterogeneous IoT data integration model that will be implemented through a IoT multi-protocol parser as a service to support all sorts of IoT data into the data space designed in WP1. It  also takes care of the scalability test and optimization. WP4 takes care of designing and implementing the Inclusive Green Data Space(s) based on the common data model. It integrates various data sources, including satellite, IoT, statistical, and human generated data, as well as third party services. WP5 researches and leverages artificial intelligence and machine learning to enhance data quality, uncertainty management and ground truthing. It also focuses on AI, ML in HPC and cloud for data analytics and knowledge generation and for governance decision making support.
WP6 leads the pilots' implementation and assessment of the AD4GD approach for zero pollution, biodiversity, and climate change with a focus on end-user validation. WP7 takes care of the communication and dissemination activities, including the standardization and international fora outreach. It supports transfer to the European Data Spaces, as well as the exploitation and sustainability plan. WP8 takes care of the overall administrative, scientific, and technical coordination, including the advisory board and the data management and protection. WP9 deals with all ethical aspects of the project and is the home of the Data Protection and Ethics Officer.
CREAF - Centre de Recerca Ecològica i Aplicacions Forestals
Campus de Bellaterra (UAB) Edifici C, 08193 Cerdanyola del Vallès, SPAIN